4 MIN READ
A passion for coffee and innovation led him to develop a geospatial app using Esri technology to help the mapping activities of upstream coffee industries, winning him a once in a lifetime opportunity to attend the world's largest geospatial conference: the Esri International User Conference.
Geodetic Engineering student of Itenas Bandung, Rifqi Oktavianto, was the local winner of the 2019 Indonesia Esri Young Scholar Award (EYSA). Rifqi won the 2019 EYSA with tanikopi, a geospatial app focused on coffee farm management utilising Esri technology.
The EYSA is a nation-wide competition celebrateing excellence in geospatial study, and more specifically, the creative use of Geographic Information System (GIS) technology to solve real-world challenges in the community.
Rifqi competed with several others from across Indonesia to earn his place at the 2019 Esri International User Conference held in San Diego, California, US, on 8 to 12 July 2019, where he showcased his app to more than 17,000 GIS professionals from 150 countries. He also had the opportunity to meet Esri founder and president, Jack Dangermond, and networked with other EYSA winners from around the globe.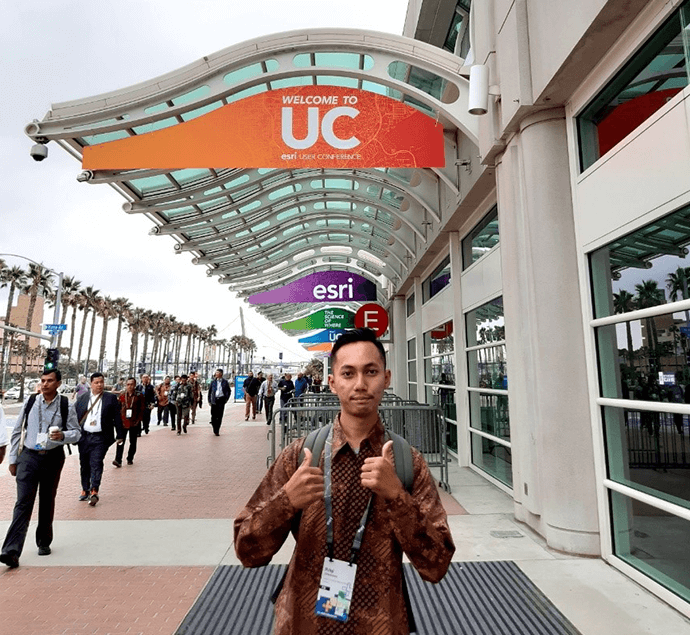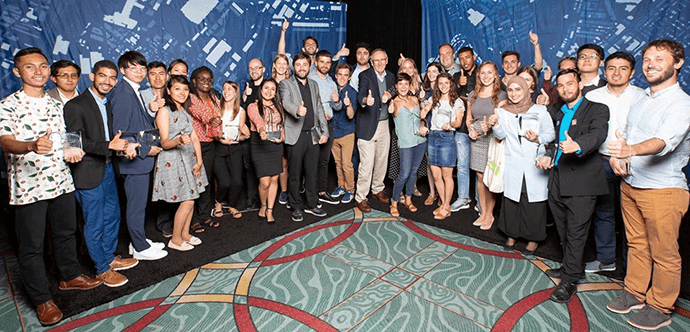 According to Rifqi, tanikopi targets users who are coffee farmers and coffee farm visitors. Coffee farmers can record their routine activities digitally and geospatially. In addition, coffee farm visitors can also promote products from the coffee farm.
"As the fourth-largest coffee producing country, it is very important for Indonesia to have geospatial technology to support the mapping activities of coffee farms. Moreover, almost 96% of coffee farms are smallholdings owned by the community. If the geospatial app for this sector is available, coffee farmers can record their entire routine activities from the beginning to the end of the coffee harvest periods, and even monitor geospatial distribution patterns. Based on this data, coffee farmers can decide on the next day activities to better manage their farm," Rifqi said.
Engaging coffee farm visitors aims to involve them in the coffee farm infrastructure to provide data on road access problems and planning coffee farm activities. Those are important considerations for increasing economic gain. Engagement with coffee farm visitors to promote any activities or products from the coffee farm, to be enjoyed by the wider community, could help establish direct trade between the downstream and upstream coffee industry.
Tanikopi utilises a combination of Esri technology. The main features use Survey123 for ArcGIS as data survey collector and geolocation of its activities for coffee farmers or coffee farm visitors – the obtained data can be visualised on an online map. Integration of online map with Operations Dashboard for ArcGIS aims to monitor the geospatial distribution of coffee farmers activities, while Esri Web App lists the coffee farm activities reported by coffee farm visitors. All of these processes use ArcGIS Online as a cloud-based GIS platform.
In the EYSA final round, finalists were judged by a panel of experts representing commercial, government, industry, and academic sectors. The EYSA finalists' projects should have a positive impact on the community through innovation and, of course, their application of Esri technology.
Dr. Achmad Istamar, CEO of Esri Indonesia said, "Rifqi succeeded in leveraging Esri technology, from ArcGIS online to the development of the mobile app". The judges also agreed that Rifqi's project must be developed with the integration of geospatial data from publicly accessible government data. Collaboration with a multidisciplinary background is also required for the project to evolve and be more focused on its goal.
"If development is implemented, tanikopi could be the future of a precision agriculture platform in Indonesia," Dr. Achmad Istamar said.
When asked about winning the EYSA, Rifqi said "I am not a coffee farmer nor expert, but with my background as a Geospatial student, I believe I can implement my knowledge and idea with the support of Esri technology to help many coffee farmers in Indonesia with tanikopi."
After attending the 2019 Esri International User Conference in San Diego, Rifqi acquired more knowledge, heard stories, and saw countless other successful projects – with this experience, he hopes to make tanikopi a geospatial startup in the future.
For more information on Rifqi's journey check out this story map and vlog.