2 MIN READ
Oil and Gas Customer Experience Submission has managed to gather a number of oil and gas professionals in Indonesia to share the GIS implementation in their organisation and Chevron Indonesia comes out as the winner of the competition.
Chevron Indonesia has emerged as the overall winner of Esri Indonesia's Oil and Gas Customer Experience Submission Competition, closely followed by Saka Energi Indonesia in second place and Total E&P Indonesié  in third position. Other industry leaders, including PT Pertamina EP and ConocoPhillips Indonesia, also participated.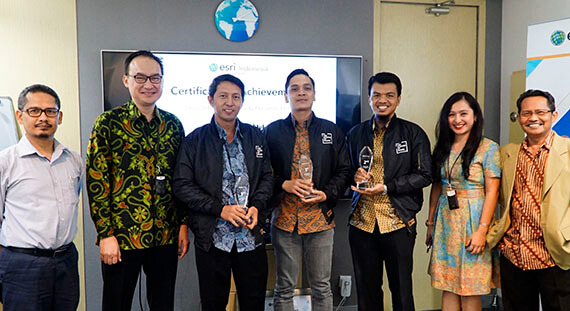 The competition – which was exclusively open to the oil and gas industry – aimed to showcase how organisations can creatively and innovatively use location-based analytics to achieve greater productivity and efficiency.
Chevron's project on using GIS to enhance their 5,000-fleet operations, resulting in improved safety performance, had won over the judges. Saka Energi's project which benefits users to have instant access of their three exploration and production areas came in second place; while the third place goes to Total E&P's project on making all information accessible anywhere and anytime to all their users.
The three finalists presented their projects in front of a panel of judges which included industry experts such as Dr. Asep Karsidi, M.Sc – Senior Researcher for Remote Sensing & GIS, Dr Deni Suwardi, ST,MT,Ph.D. – Senior Lecturer of Institut Teknologi Bandung and Dr. A. Istamar, Chief Executive Officer of Esri Indonesia.
Location-based analytics - empowers oil and gas industry-related organisations to leverage and share spatial data and information anywhere and at any time, which has led to significant improvements in collaboration, enhanced workflows and improved exploration analytics and surveillance.
"The oil and gas industry is one of the most significant economic contributor in the country, and having a solid spatial environment in place is crucial in their work processes - from building exploration portfolio, managing pipeline infrastructure to protecting people, environment, assets and reputation," Dr. A. Istamar, Esri Indonesia Chief Executive Officer said.
"It was a fairly tight competition where all the submissions from these companies received close scores to one another, and share the same fundamentals - location-based analytics has helped decision-makers address their most challenging problems and make time-sensitive decisions in critical situations and needs. This has shaped the oil and gas industry to be more resilient and have a sustainable future for shareholders, consumers and environment," Dr. A. Istamar continued.
The awards were presented to the winners at Esri Indonesia office.