3 MIN READ
As a part of the commemoration of GIS (Geographic Information System) Day 2019, Esri Indonesia supports Geography Days 2019 (G-Days 11th) event held by the Geography Study Programme of University of Indonesia (UI).
The event is currently being held, from November 27 to December 7, 2019, with series of main events consisting of National Seminar, National Geographic Olympiad, Paper Competition, ISOGIS Competition, Workshop, Department Review and Music Festival.
UI Rector, Prof. Dr. Ir. Muhammad Anis, M.Met. officially opened the G-Days 2019, on National Seminar entitled "The Role of Big Spatial Data in 4.0 Era" on Wednesday, November 27, 2019, at Balai Sidang, UI Campus, Depok.
The National Seminar was attended by 186 participants, comprising 97 students, 64 people from the public, 13 representatives from the sponsors, seven media representatives and five lecturers. The seminar was also presented speakers with various scientific spectrums, such as Head of Geospatial Information Agency Prof. Dr. Ir. Hasanuddin Zainal Abidin, M. Sc. Eng., Director General for the Strengthening of Research and Development at the Ministry of Research, Technology and Higher Education Dr. Muhammad Dimyati, Expert Staff of the Ministry of National Development Planning in the Field of Equity and Regional Development Drs. Oktorialdi, M.A., Ph.D., and Director of Preparedness for BNPB Bambang Surya Putra, M. Kom.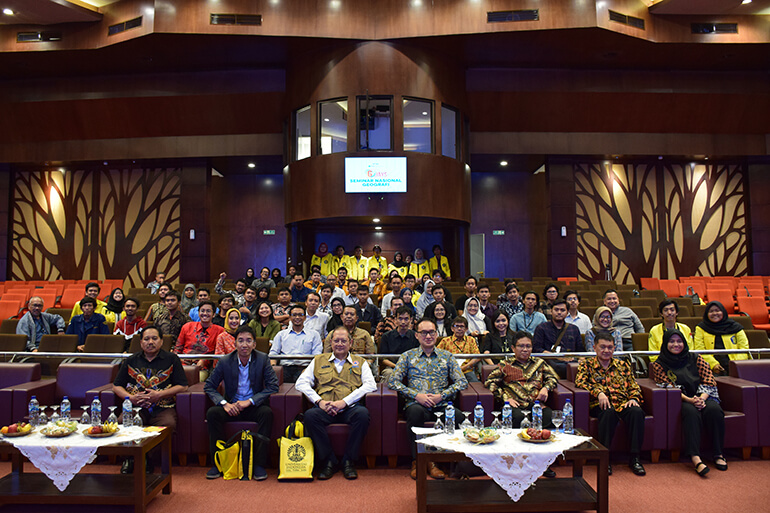 In his presentation, Esri Indonesia's CEO stated that, "Geography holds significant roles in industrial revolution 4.0 that renders data as the main axis of development.". The statement is also supported by the dean of FMIPA UI Prof. Dr. rer. nat. Abdul Haris who stated that "The management of geographic information to develop certain areas needs to be supported with sophisticated technology, human resource development, community service and scientific research to provide solutions of the existing activities in the community."
When talking about industry 4.0, it cannot be denied that geospatial technology has become a leading factor, as stated by the Rector of University of Indonesia Prof. Dr. Ir. Muhammad Anis, M. Net in the same event, "Geospatial Technology is a technology that can be a golden thread that connects and integrates various data, and various technologies related to industry 4.0. Geospatial technology will help humans to understand so many data streams that exist today. Geospatial technology will also help provide context to the currently large amounts of data.".
In this fast-paced information era, the technology of Big Spatial Data and artificial intelligence (AI) are very necessary for daily life. One of the implementations of the technology is one map policy that becomes a foundation for the development of Indonesia in dealing with Industrial Revolution challenges. Besides, spatial data management is also required to mitigate disasters and regional development.
By conducting event along with the University of Indonesia, Esri Indonesia expects that community's wide understanding of artificial intelligence technology in spatial aspect (Geo AI) will improve. Therefore, the seminar is also expected to be a sound discussion forum for parties from various disciplines to find solutions to problems in the application of Big Spatial Data.
In this year, Esri Indonesia held GIS Month 2019 to commemorate the world GIS celebration which falls on November 13 by holding various exploration activities on GIS technology which were held for a whole month.
For further information related to GIS events, please visit esriindonesia.co.id/events-calendar.