4 MIN READ
Esri, the global leader in location intelligence, presented PT Jababeka Tbk and Sinar Mas Forestry with Special Achievement in GIS (SAG) Awards at the annual Esri User Conference (UC), which was held in a completely virtual format for the first time this year. 
Selected from over 300,000 candidates, these companies received the award for innovatively applying mapping and analytics technology to understand complex data and tackle real-world challenges.
They also displayed thought leadership in the fields of industrial estate and forest plantation development.
"The Esri UC has always given our users an opportunity to share the ways they are implementing GIS and using it to improve their organisations and the world around them," said Jack Dangermond, Esri founder and president. "I am inspired by the amazing work our users are doing, and I am honoured to present these awards to all the organisations recognised for their commitment to technological leadership in government, business, and non-profit work."
Echoing these statements, Leslie Wong, Director, Esri Indonesia, added that "This year's winners shows how deeply the role of innovation is in almost every aspect of business. PT Jababeka Tbk and Sinar Mas Forestry have proven this and made new breakthroughs in the use of GIS to transform their operational activities. Esri is proud to be able to take an important part and at the same time provide added value to our clients. A future of possibilities in utlising GIS technology is ahead of us. This year's award further strengthens Indonesia's position as one of the countries in the center of global technology and world-class innovation."
Esri UC 2020 was the world's largest virtual GIS event. PT Jababeka Tbk and Sinar Mas Forestry were among over 180 organisations in areas such as commercial industry, transportation, non-profit work, telecommunications, and government to be honoured. All recipients were acknowledged by Dangermond during the event.
PT Jababeka Tbk
As an industrial area covering 5,600 hectares and having an important role in import and export activities in Indonesia, Jababeka continues to be transformed from various business sides. Using a geospatial approach, Jababeka can map and analyse data and map integration that enables it to visualise dynamic and real-time information.
The Jababeka Group also submitted a map to the Esri UC entitled "Creating New Cities for Prosperous Indonesia". The map reviewed infrastructure and facilities in four projects that are being developed by Jababeka Group, namely Kendal Special Economic Zone, Jababeka City, Tanjung Lesung Special Economic Zone, and Morotai Special Economic Zone. It also discusses the business impact from using GIS technology
"We are proud to receive this award. GIS technology has really helped our business in successfully transforming data infrastructure and facilities that are not integrated, as well as analysing and integrating data and maps to enables us to visualise dynamic and real-time information as needed," said Tjahjadi Rahardja, a PT Jababeka Tbk Director. "It is now easier for us in planning and developing an area. With GIS features, we can see if there are vacant lands and then analyse the suitability of the area for the project to be developed."
In doing so, the Jababeka Group has also succeeded in bridging various divisions through a single platform, such as the land division, business development division, marketing division, and others – to collaborate on one data source.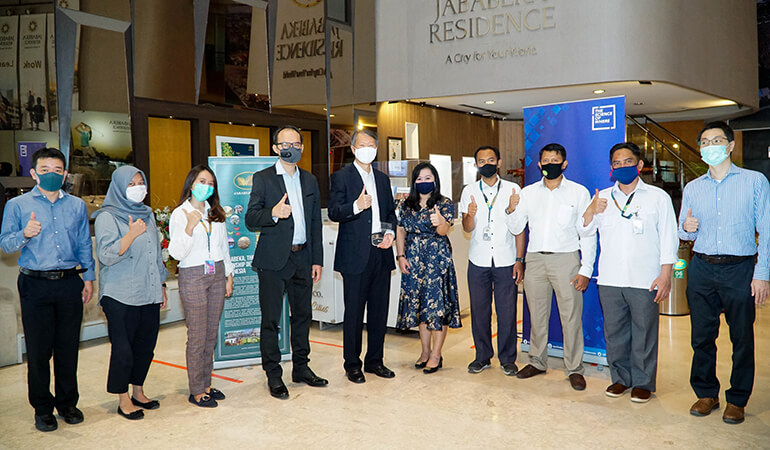 Sinar Mas Forestry
As a company that manages more than 900,000 hectares of land, Sinar Mas Forestry is concerned about managing the calculation of trees, which will greatly affect their work operations. Proper tree calculation is important to maintain conservation stability as well as address various challenges related to forest conservation.
Usually done manually by digitising data captured by UAV drones, the counting process involved multiple divisions with overlapping workflows that would cascade.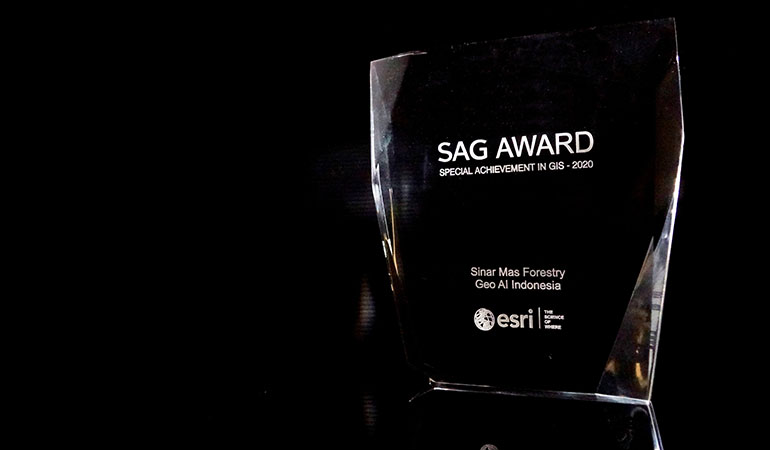 With geospatial technology and the use of big data, a single platform was developed to connect these different divisions, reducing the time taken for various processes – in some cases, by half. Now, Sinar Mas Forestry can plant up to 25,000 hectares in around a month on average.
Through the implementation of GIS technology, it is expected to be able to make operational performance more efficient, such as conducting data collection when inventorying with sampling data at only 1%.
"This GIS technology not only provides a high level of efficiency for our operations but at the same time can integrate various things with our other parent companies," said Wisly Dwi Putra, CEO Sinar Mas Forestry. "All of them can be managed through a monitoring dashboard that enables us to make the right decisions in various situations. The tree counting approach is very satisfying, with an accuracy level of up to 90%."
Take a free trial of our suite of ready-to-use GIS solutions and apps.