2 MIN READ
Esri Indonesia signs Memorandum of Understanding with PERHAPI 
Esri Indonesia, the leading geospatial technology provider, has signed a Memorandum of Understanding (MOU) with The Association of Indonesian Mining Professionals (PERHAPI) — strengthening its collaboration with the local mining community.
Signed by PERHAPI Chairman, Ir. Rizal Kasli, ST., IPM., ASEAN Eng and Esri Indonesia Country Manager, Christanto Yanuar, the partnership aims to advance the knowledge and application of Esri's geospatial technology, ArcGIS, among PERHAPI members to enhance the productivity, safety, and efficiency of mining operations.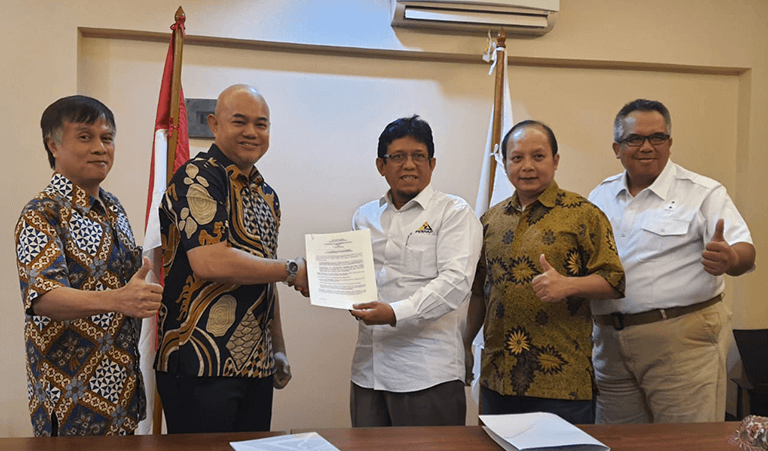 PERHAPI represents Indonesian mining experts — both academics and practitioners — with a diverse membership base across public sector agencies, academic institutions, and corporate enterprises.  
Commenting on the MoU, Ir. Rizal Kasli said, "We are hoping to improve the GIS skills of mining practitioners through training, certification, seminars, joint research and advocacy, as well as in community service programs with support from Esri Indonesia." 
Meanwhile, Mr. Yanuar expressed a commitment to continuously support the use of spatial data, not only commercially, but also professionally, academically and on a larger scale by the wider community.
"Armed with high quality software and a unique understanding of the ArcGIS platform, we are committed to enhance the spatial data analysis capabilities of industry players, especially mining experts, so that this sector can see the results, such as when it comes to making decisions quickly," said Christanto. 
GIS technology delivers end-to-end mining operation life cycle support — from prospecting to construction — and enables accessibility and visualisation of mapping data, interactive operation monitoring, and asset reporting to inform potential risk measurement and mitigation.
Advanced capabilities within ArcGIS enable topographic mapping, exploration, 3D geological spatial modelling, mine planning, environmental risk assessment and management, while ArcGIS Drone2Map allows the use of drone imagery to monitor progress.
By advancing the application of GIS technology, mining operations can become safer, more efficient and sustainable.