2 MIN READ
New South Wales infrastructure costs and roadwork disruptions are set to be reduced with the Smarter Scheduling NSW (SSN) system enabling government agencies, utilities and councils to coordinate infrastructure maintenance and construction.
The ground-breaking smart mapping technology displays planned infrastructure across the state up to a decade in advance, alerting stakeholders to opportunities to coordinate in the schedule, and ensuring maintenance programs are facilitated with maximum efficiency.
Developed in partnership with the NSW Government's Land and Property Information (LPI) division and mapping giant Esri Australia, SSN reduces the need for multiple digs, construction and repairs.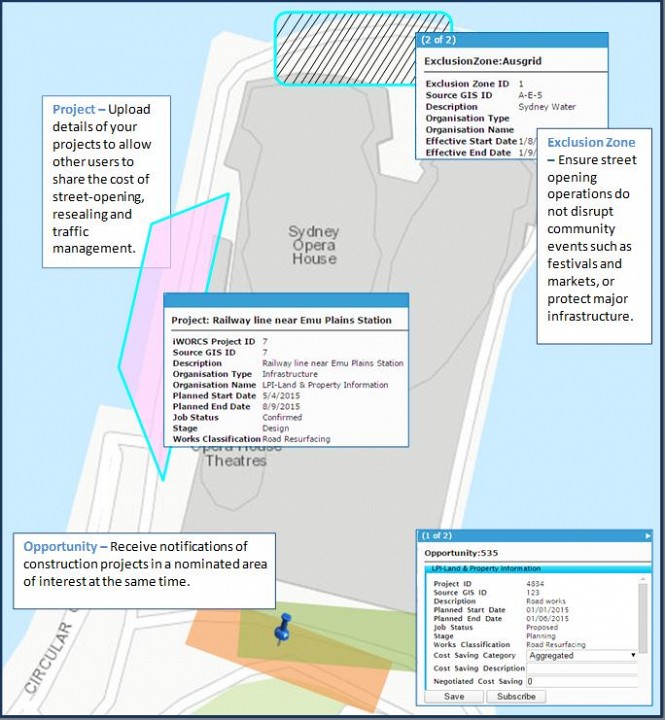 Esri Australia consultant Ebony Wicks said the Cloud-based solution was a first-of-its-kind for the coordination of infrastructure works.

"This will give NSW the most streamlined infrastructure coordination capability in Australia, saving organisations and taxpayers both time and money," Ms Wicks said.

"Stakeholders do not have to actively monitor the system – they simply subscribe to projects and are notified when there are opportunities to perform their own works or coordinate with others.

"Opportunities are displayed on a user-friendly, interactive map interface that is viewable and searchable by all authorised users."
Ms Wicks and LPI Senior Project Manager Ian Palmer will unveil the application at Directions LIVE in Sydney. Mr Palmer said the project would reduce the stress and disruption caused by infrastructure works to communities and their local road networks. "While there are statutory obligations on utility providers to consult road authorities about any planned road openings, there are no requirements to communicate these plans to other utility providers," Mr Palmer said "It is not uncommon for the same stretch of road to be dug up a number of times by different utility providers. "This new technology encourages a more collaborative approach to infrastructure works.

"We will see reduced waste in works arising from duplicated infrastructure activity and minimised disruption to the public and business sectors."
Ms Wicks said the same technology could be used beyond roadworks, to streamline processes and connect stakeholders across any cross-organisational projects.
"One example is in an emergency management situation, where different government and private organisations need to coordinate with project managers," Ms Wicks said.
"The different users can upload information to the smart map or access the system from mobile devices in the field.
"Information can also be distributed to the public to ensure residents have a better understanding of what is happening in their area."