3 MIN READ
The award-winning projects emphasises the developing augmented intelligence and innovative use of GIS to gain critical insights for better decision making. It was presented by Jack Dangermond in Esri User Conference 2018.
Two leading Indonesian organisations have edged out more than 100,000 companies world-wide to win a global technology award. PT Telekomunikasi Indonesia, Tbk (Telkom) and Lembaga Ketahanan Nasional Republik Indonesia (Lemhannas RI) have won an Esri Special Achievement in GIS (SAG) Award, which recognises the creative use of Geographic Information System (GIS) technology to improve the lives of citizens.
Presented by Jack Dangermond – Founder and President of global mapping giant Esri at the world's largest geospatial event (2018 Esri International User Conference in San Diego) – Telkom and Lemhannas RI were praised for demonstrating forward-thinking vision, actionable leadership to benefit their communities.
Esri Indonesia CEO, Dr. A. Istamar, said the significant achievements of the two organisations would inspire others around the world to reflect on how they can use GIS technology to strengthen their own operations. "This award has demonstrated to the world that Indonesia is becoming a global powerhouse for technical innovation in developing augmented intelligence, making sense of Big Data," said Dr. Istamar.
"Telkom Indonesia and Lemhannas have set an international benchmark with their innovative use of Geographic Information System, in making sense of Big Data and we are very proud to have supported them in this journey.
"Telkom's innovative approach to using GIS technology to grow their customer base in a highly competitive market like Indonesia will be looked to as a blueprint by other major telco around the globe.
"Likewise, Lemhannas RI's predictive-dynamic modelling using spatially enabled big data from across Indonesia, aids the policy makers to develop strategies and simulate impacts using multiple if/then scenarios"
Telkom 
Telkom's award-winning project involved using GIS technology to gain critical serviceability insights into their ISP fiber-to-the-home project IndiHome – a triple-play offering that packages phone, Internet, and cable television services.
Using the approach, Telkom were able to map and analyse where existing and potential customers were located in relation to Optical Distribution Points (ODP). The insights derived enabled them to clearly understand network capacity, customer prospects, competitive threats and model an optimised infrastructure rollout plan.
Additionally, they developed a highly effective and targeted customer engagement program that enabled them to double the number of IndiHome subscribers from two million to four million.  Through continued use of the technology, it is expected this number will reach five million subscribers by the end of this year.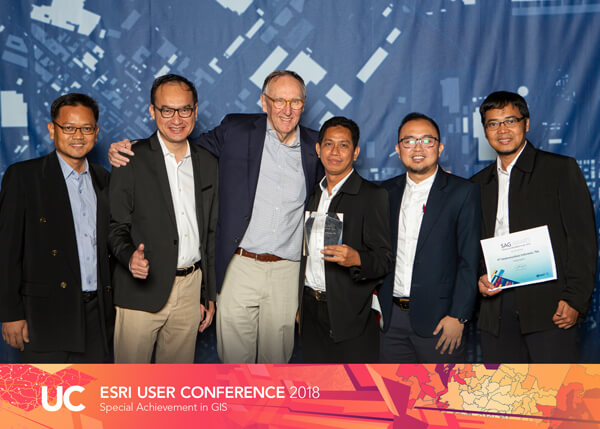 "Since the implementation of the Indihome, we have seen tremendous improvements in productivity and efficiency. It has empowered our staff and our management to have a sense of ownership in making important decisions," said Arif Rachman, Manager Big Data External Service Strategic & Design of PT Telekomunikasi Indonesia, Tbk (Telkom).
Lemhannas RI
Lemhannas RI's award-winning project used GIS technology to develop an innovative national resilience measurement system known as Siskurtannas – which measures three resilience dimensions for the nation: ASTAGATRA, space and time.
Siskurtannas maps, analyses and provides insights through a visually engaging and dynamic map that supports augmented intelligence capability to assist in decision making process to be made by the country's high-ranking officials.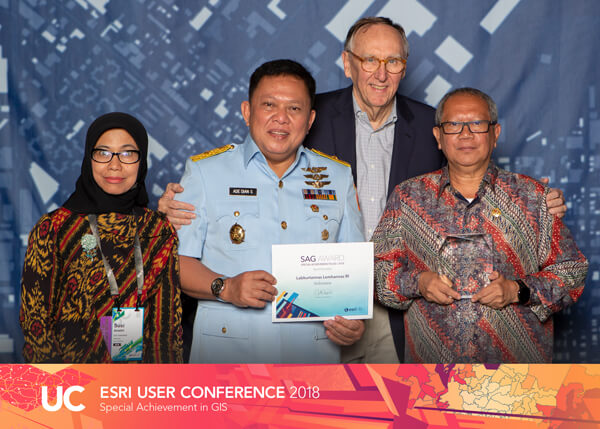 The dashboard can display data in a timely manner, revealing the resilience measure for a particular area – ultimately strengthening the country's emergency preparedness and response.
"Siskurtannas has significantly improved the resilience measurement of our country at regional and national levels by providing us with a deeper awareness of potential threats and discover new insights that we have not seen before. It's a compelling example of the integral role GIS technology holds in enabling us to make more informed decisions for a wide-reaching impact of our national security initiatives," said Marsma TNI Ade Dian Suryacandra, Head of Labkurtannas Lemhannas RI.