3 MIN READ
Esri, the global leader in location intelligence, recognised PT Waskita Karya (Persero) Tbk (Waskita Karya) and PT. Pertamina Hulu Energi (Pertamina Hulu Energi) with the Special Achievement in GIS (SAG) Award at the 2021 Esri User Conference.
Esri presents the award to organisations from across the globe who have demonstrated exceptional innovation through the deployment of Geographic Information Systems (GIS) technology.
Selected from over 300,000 candidates, the recipients are recognised for their efforts in building a more sustainable and equitable future by using geospatial technology to improve communications, communities, and environments.
Waskita Karya received the award for their best practice approach to project management – creating a digital twin and next-generation information management system, which brings together huge volumes of data for large-scale infrastructure projects into a centralised location.
Meanwhile, Pertamina Hulu Energi was recognised for its innovative real-time, smart mapping system — eXplore Digital World — which turns the company's vast stores of data into actionable business insights.
Speaking at the virtual Emerging Trends from the Esri UC event held on 26 August, Esri Indonesia's Chief Industry Solutions Officer Cahyo Nugroho said Waskita Karya and Pertamina Hulu Energi have both tested and explored the potential of what geospatial technology can do to address real-world challenges in their organisations.
"In addition, their use of the technology has also enabled them to solve some very pressing and real problems, for which there are no traditional solutions," Mr Cahyo said.
"Their forward-thinking approach in digital transformation sets a standard in the industry and a benchmark for others to follow."
"On behalf of the wider Esri community around the world, we would like to congratulate Waskita Karya and Pertamina Hulu Energi for their successful achievements. We are honoured to have been part of their inspiring journey and we are excited to see how they will continue to harness geospatial technology to address real-world challenges in their organisations," Mr Cahyo said.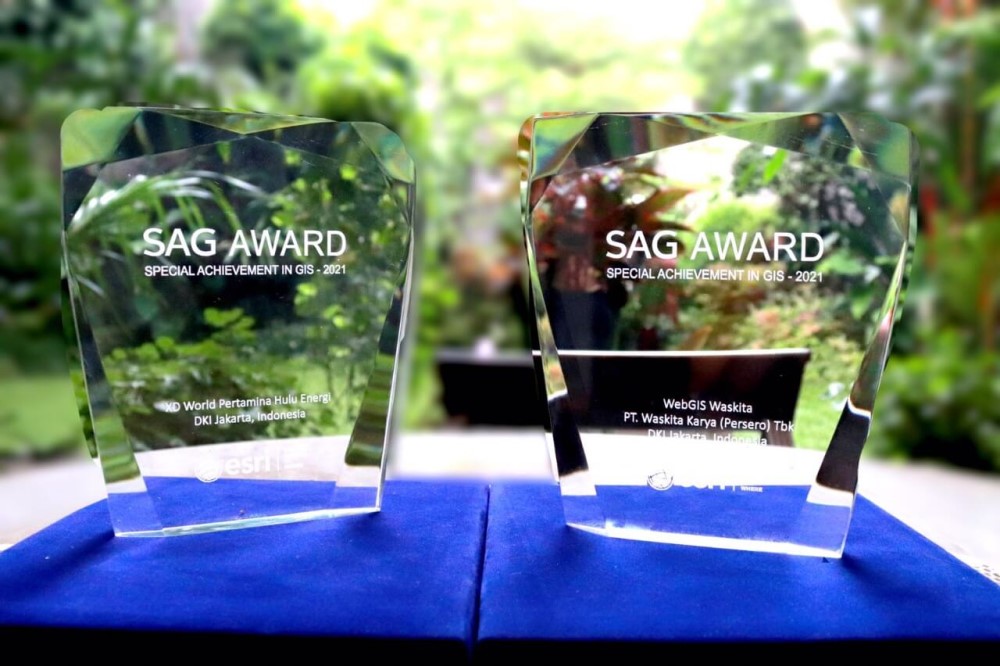 PT Waskita Karya (Persero) Tbk.
Waskita Karya adopted a digital engineering trend called GeoBIM which will enable the company to create more resilient infrastructures and facilities across the nation.
As part of its digital transformation initiative, Waskita Karya used a Geographic Information System (GIS) solution which integrates, manages and analyses a variety of data including BIM (Building Information Modelling) data to provide designers and architects with greater insight that influence an upcoming structure's location, orientation, and even construction materials.
While GIS is necessary for planning and operating cities, roads, bridges and other infrastructure in the context of their surroundings, BIM information is crucial for the design and construction of those structures.
GeoBIM will enable planners, engineers, and architects to visualise and experiment the impact of designs against existing surroundings and landscapes on a 3D map to ensure infrastructure and amenities in upcoming projects support the needs of the surrounding community. It will also allow them to experiment on various planning configurations and provide a common platform for better communication with multiple stakeholders.
Pertamina Hulu Energi
To achieve its vision as "A World-Class Company," Pertamina Hulu Energi embarked on a digital transformation initiative that would aim at seeing greater efficiencies across their business processes. Among their goals involved enabling heightened business mobility through improved decision-making processes.
XD World is single coordinate integrated data management system in Pertamina Hulu Energi that is built on top of Esri's ArcGIS Enterprise platform. XD World contains several features such as Asset Dashboard, Live Production Report, Regional and Subsidiary Maps, Seismic Acquisition Progress Tracking, and Subsidiary Dashboard. Having such capability in place facilitates a more thorough evaluation process, enabling well-informed decision making through a single platform.
As Pertamina Hulu Energi continues to drive digital transformation, they are now working to develop a Vessel tracking system that not only monitors vessel movements but also captures their attributes. Besides that, they are now working on QA Production Optimization as a quality assurance platform to find out the causes of non-optimal production volumes.