4 MIN READ
Since its inception, Tunisie Telecom has worked to consolidate the telecommunications infrastructure in Tunisia and has improved telecommunication coverage throughout the country.
Tunisie Telecom actively contributes to the industry, promoting the use of information and communications technology (ICT) and the development of innovative telecom products and services. These include fixed broadband (Asymmetric Digital Subscriber Line [ADSL], Very High Speed Digital Subscriber Line [VDSL], fiber-optic cable, mobile voice calls, and data for business to consumer (B2C) and business to business (B2B) segments.
A pioneer of the telecoms sector in Tunisia, Tunisie Telecom has established a set of defining values, ​​which places the customer at the center of its priorities. They are as follows: simplicity, responsibility, team spirit, and commitment.
With the adoption of these values comes continual improvement of the standards throughout the company and an increase in the quality of the services it provides. Tunisie Telecom has more than seven million subscribers across its fixed and mobile networks.
To accommodate its customers, Tunisie Telecom has 24 regional offices with over 6,000 employees serving customers across 160 direct retail stores with nearly 100 franchises, and more than 13,000 independent points of sale.
Challenge
Tunisie Telecom had several challenges — like many telecoms throughout the world do and work to solve each day. The company wanted to grow its market share, simplify operational workflows, and improve the customer experience.
As staff assessed these areas before working to deploy ArcGIS tools and resources, several key performance indicators (KPIs) and pain points were defined mainly in the fixed broadband (FBB) customer journey. These included manual processing for multiple activities in the customer life cycle and the lack of SLAs and OLAs between frontline and technical teams, leading to lengthy delivery and repair times.
Solution
To address these challenges, Tunisie Telecom deployed ArcGIS Enterprise as a comprehensive ecosystem for its operations. This provided a powerful foundation for teams to leverage when creating purpose-built web applications and maps and utilizing out-of-the-box desktop and field mobile applications, such as ArcGIS Workforce, ArcGIS Collector, or ArcGIS Field Maps.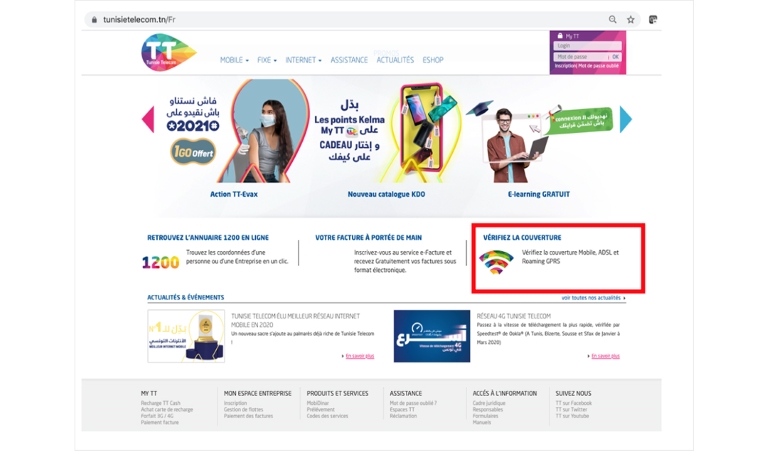 As they worked to improve order fulfillment and serviceability request timelines, the team members at Tunisie Telecom took the self-sufficient digital experience for their customers to the next level by deploying an insightful and engaging custom application called Taghtia, which was built on Esri software.
The Taghtia application allows customers to request new service and immediately receive a yes or no serviceability assessment. One key element of the application is the creation and use of MyAddress, a unique customer location identifier that is used throughout the serviceability and ordering processes.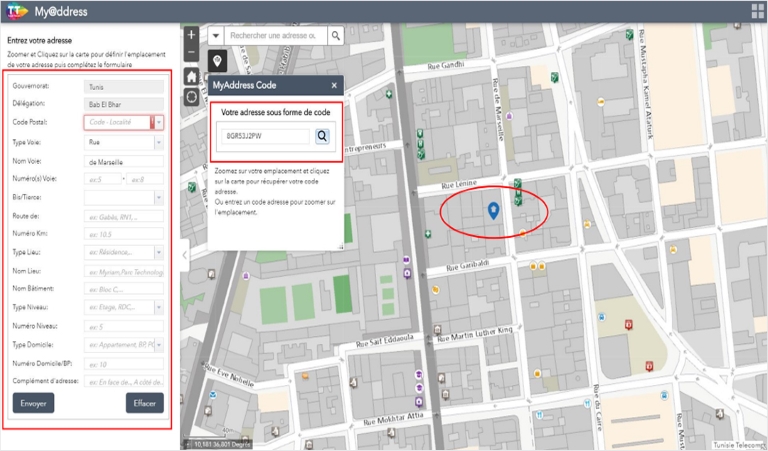 In the back end, another application, called GeoNetwork C (for Connection), is used to support planners and engineers who work on customer connection projects.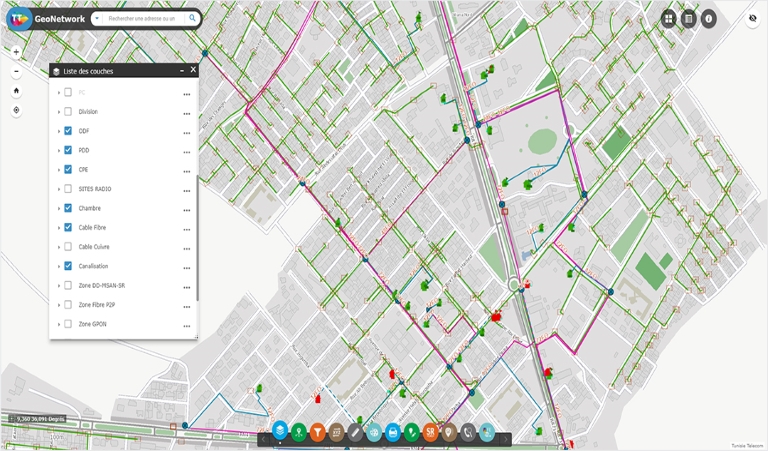 Additionally, within Taghtia, customers have the ability to file a complaint. This service request or other inquiry is immediately delivered to the operations team and is visible in a dashboard — created using ArcGIS Dashboards — for resolution.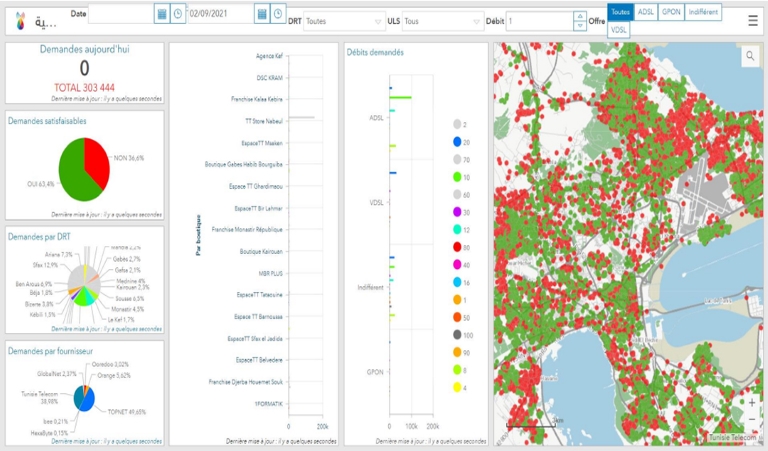 To simplify and speed up the installation and repair workflows, ArcGIS Workforce was deployed. This allows teams to quickly and easily create, issue, track, update, and reconcile items such as new order installations, customer complaints, and repairs.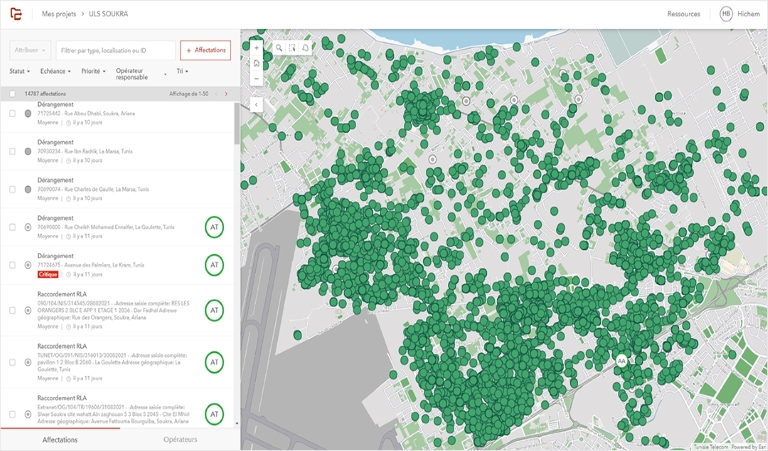 Furthermore, though leveraging ArcGIS Workforce, the Tunisie Telecom teams can effortlessly monitor the status and progress of all work in their region in a dashboard.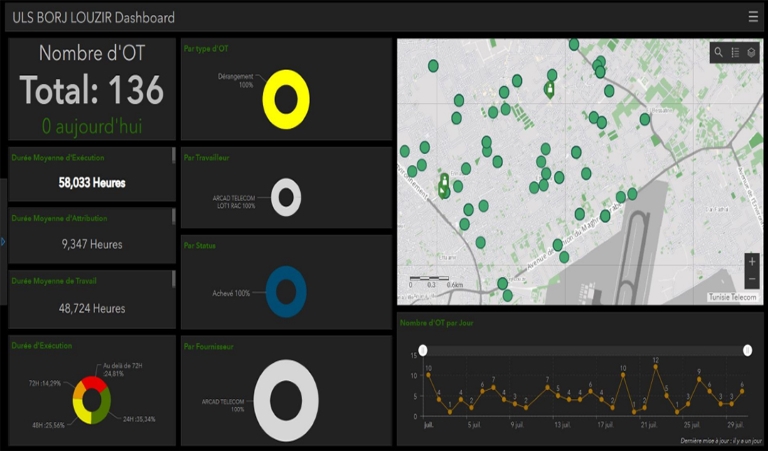 Results
Through the integration and deployment of ArcGIS Enterprise as a foundation for operations, Tunisie Telecom positively impacted its goals as follows:
Overall customer satisfaction when placing online orders for fixed broadband rose from 89 percent to 95 percent.
Time to assess serviceability of customer locations decreased from an average of 50 hours to just minutes.
Time to connect decreased from over three days to under 24 hours.
Tunisie Telecom [TT] started its digital transformation journey for the delivery process of fixed and internet services using Web GIS and GIS field applications such as Taghtia, GeoNetwork, GeoNetwork C, SIG-DAO, MyAddress, and Workforce Management. It provided a unique, fully automated digital experience for our FBB customers and improved our operational KPIs.                                                                                                                        -Hichem Belaid, GIS Manager at Tunisie Telecom
User
Tunisie Telecom provides services to more than seven million subscribers over fixed and mobile networks.
Challenge
The telecom company needed to reduce the timelines required for connecting and assessing serviceability, and to increase customer satisfaction and streamline operations.
Solution
A comprehensive ecosystem leveraging ArcGIS Enterprise was created to provide a company-wide system of record, powerful engagement, and resources for insight.
Result
Decreased time to connect
Decreased time for serviceability assessment
Increased customer satisfaction
Partner
All work was performed by the Tunisie Telecom team.