GIS is digitally transforming project design and delivery for architecture, engineering and construction (AEC) through improved workflows, better collaboration, and enhanced operational awareness to build more resilient infrastructures for the future.
Project Monitoring Dashboard
Provide comprehensive information on all projects at a glance with project monitoring dashboards. Add compelling visualisations by connecting each dashboard to 2D and 3D models of your projects.
Maintain a bird's-eye view of all projects
Combine tabular and geospatial data
Provide interactive visualisations for stakeholders
Gain a holistic view of projects for better decision-making
Products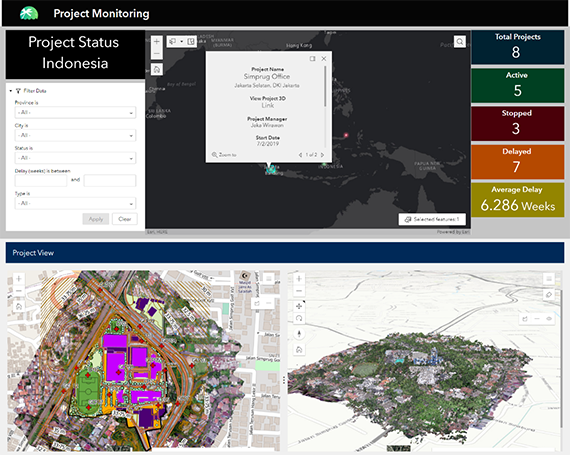 Imagery Slider App (2D)
Compare project progress over time with realistic visualisations of 2D satellite or drone imagery from two or more time periods.
Update progress seamlessly from the field
Overlay orthophotos for temporal analysis
Keep historical orthophotos for progress tracking
Products
ArcGIS Pro 2.8 standard
ArcGIS Image Server (if using Enterprise)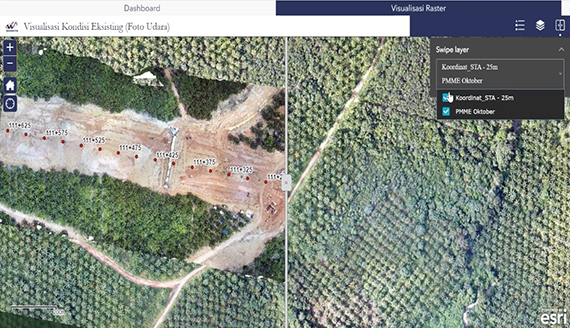 Project Update Interactive Presentation
Communicate effectively to stakeholders by presenting project data in an interactive online presentation (StoryMaps) that can combine narration, audio, video, and interactive 2D and 3D maps.
Share project updates via interactive online presentations
Combine 2D and 3D maps with narration, multimedia files and various web apps for greater insights
Embed in website or portal for internal or external communications
Products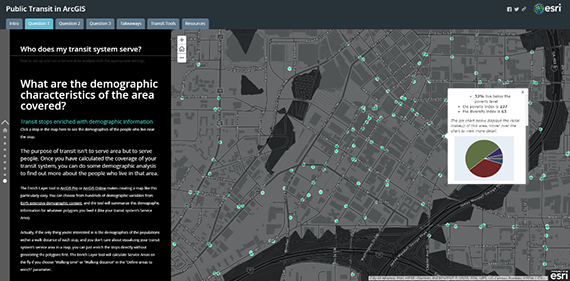 Field Maps Survey
Bring field survey data to the office seamlessly with ArcGIS Field Maps to increase efficiency and accuracy with direct integration from your mobile apps.
Access ready-to-use mobile apps in Android, iOS, or Windows
Easily create your own online survey form
Collect and sync data offline
Pair with high-accuracy Global Navigation Satellite System (GNSS)
Products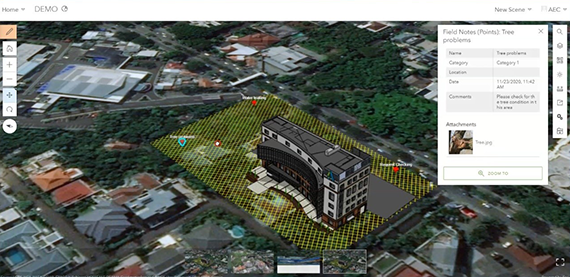 3D BIM Data Mapping
Combine GIS context data and detailed Building Information Modeling (BIM) data and display in 3D maps to increase project visibility.
Geo reference your CAD, Revit, or Industry Foundation Classes (IFC) data in ArcGIS
Publish IFC and Revit data as Building Scene Layers for easy web exploration
Combine 3D model data with various GIS data in online maps for context
Prepare data for effective asset management and maintenance
Products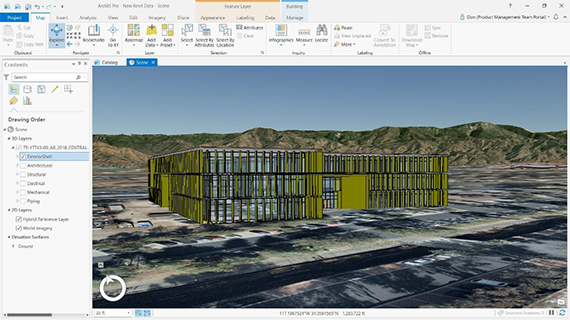 Pavement Management for Toll Road Operator
Maintain service-level agreements (SLAs) by delivering faster, more accurate asset inspections and toll-road monitoring while reducing time and costs with paperless forms.
Seamlessly update data from the field with digital forms
Monitor real-time updates via an interactive dashboard for inspection progress and reporting
Maintain historical data for comprehensive recordkeeping
Products: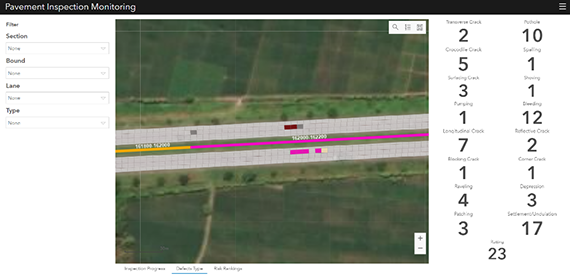 Explore additional resources