Important update to training courses
The wellbeing of our training attendees and staff is Esri Indonesia's highest priority. In light of the evolving COVID-19 situation, we are exercising a heightened level of preparedness while endeavouring to minimise disruption to your work schedule.
Until further notice, all Esri Indonesia scheduled training courses will be delivered via a virtual classroom. This arrangement will remain in place, for as long as is necessary, to ensure you can still access the training support you require.
If you have already registered for a course – we will be in contact at least three weeks prior to the scheduled start date – to confirm training arrangements.
Alternatively, if you would like to reschedule or cancel your course for a full refund, please get in touch or call (021) 2940 6355 and we'd be happy to help.
Industry-recognised GIS training
Whether you're just starting your GIS career or wanting to grow your existing geospatial knowledge – Esri Indonesia has a GIS training solution to help you meet your objectives.
With industry-recognised training courses – and Indonesia's only Esri Certified trainers and Esri-approved course materials – you can trust you're heading in the right direction with your GIS education.
Explore everything the ArcGIS platform has to offer by enrolling in a scheduled course, or choose a flexible training solution to meet your unique requirements.
GIS training paths
Determining which training program to undertake can be a difficult path to navigate.
Esri Indonesia training paths are designed to help you work out which GIS training course is right for you – whether you're looking to build foundation skills, or develop more specific areas of expertise.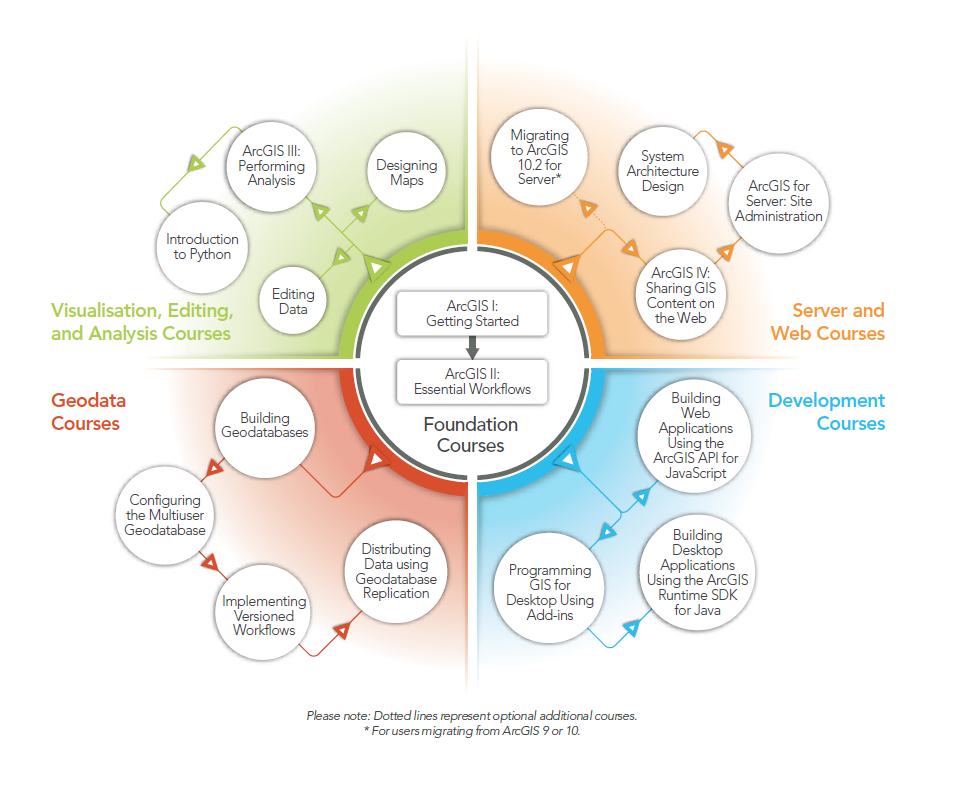 GIS training course venue
Esri Indonesia's industry-certified GIS training facility is located in its offices at:
Menara 165, 6th floor unit B, JI TB Simatupang Kav 1 Jakarta 12560.
All scheduled GIS training courses are held at this training facility, where participants have access to state-of-the-art computers and the full Esri product suite.
Once a training course is successfully completed, participants will receive an industry-recognised certificate.
Esri Indonesia Authorised Learning Centre
Esri Indonesia's Authorised Learning Centre provides trusted GIS training courses, designed to enrich your GIS knowledge and maximise your organisation's software ROI.
Whether you're a seasoned spatial professional or new to GIS, Esri Indonesia's Authorised Learning Centre will help you acquire new practical skills and hone your GIS capabilities.
We offer scheduled GIS training courses which are facilitated by Esri Certified trainers and industry experts that cover all aspects of the Esri product suite.
 
Other training services
In addition to our scheduled courses, Esri Indonesia offers a range of other training services, including:
Customised courses
Individually tailored training courses designed to cater to a specific user, or an industry's exact needs.
Onsite training
Held at an organisation's offices or at our training facilities, onsite training includes both standard and tailored courses.
Post-training tutorials
Going beyond the standard courses, Esri Indonesia's trainers will work to ensure users can practically apply what has been taught in the course.