Safety measures for training courses
While courses in our training facility have resumed, we want to assure you that the wellbeing of our trainees and staff remains Esri Indonesia's highest priority. As the COVID-19 situation continues to develop, strict safety measures and guidelines as recommended by the Ministry of Health are being adhered to for all training conducted.
All computer equipment and desks are disinfected before class commences and during the lunch break, while seats are placed and marked at least 1-metre apart, in accordance with official Safe Distance Measures. Acrylic partitions have also been installed between each desk. Masks are mandatory throughout training, and alcohol hand sanitisers and anti-bacterial wet wipes will be available.
Your temperature will be taken before commencement. For your safety, you will be asked to return home and see a doctor if your temperature exceeds 37.5 degrees.
Industry-recognised GIS training
Whether you're just starting your GIS career or wanting to grow your existing geospatial knowledge – Esri Indonesia has a GIS training solution to help you meet your objectives.
With industry-recognised training courses – and Indonesia's only Esri Certified trainers and Esri-approved course materials – you can trust you're heading in the right direction with your GIS education.
Explore everything the ArcGIS platform has to offer by enrolling in a scheduled course, or choose a flexible training solution to meet your unique requirements.
To find the training path that's right for you, contact Esri Indonesia or call (021) 2709 9881 – 84. You can also send a message via WhatsApp on (0812) 1800 0114.
GIS training paths
Determining which training program to undertake can be a difficult path to navigate.
Esri Indonesia training paths are designed to help you work out which GIS training course is right for you – whether you're looking to build foundation skills, or develop more specific areas of expertise.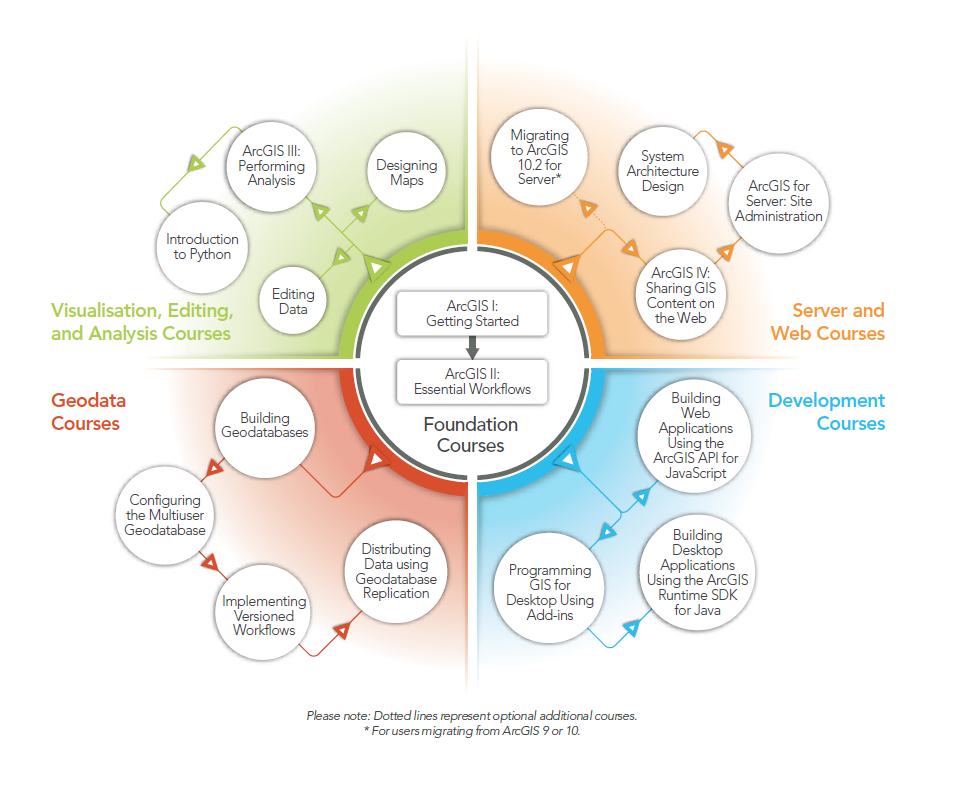 GIS training course venue
Esri Indonesia's industry-certified GIS training facility is located in its offices at:
Capital Place, 26th Floor
Jalan Jend. Gatot Subroto Kav 18
Jakarta Selatan 12710
All scheduled GIS training courses are held at this training facility, where participants have access to state-of-the-art computers and the full Esri product suite.
Once a training course is successfully completed, participants will receive an industry-recognised certificate.
Esri Indonesia Authorised Learning Centre
Esri Indonesia's Authorised Learning Centre provides trusted GIS training courses, designed to enrich your GIS knowledge and maximise your organisation's software ROI.
Whether you're a seasoned spatial professional or new to GIS, Esri Indonesia's Authorised Learning Centre will help you acquire new practical skills and hone your GIS capabilities.
We offer scheduled GIS training courses which are facilitated by Esri Certified trainers and industry experts that cover all aspects of the Esri product suite.
 
Other training services
In addition to our scheduled courses, Esri Indonesia offers a range of other training services, including:
Customised courses
Individually tailored training courses designed to cater to a specific user, or an industry's exact needs.
Onsite training
Held at an organisation's offices or at our training facilities, onsite training includes both standard and tailored courses.
Post-training tutorials
Going beyond the standard courses, Esri Indonesia's trainers will work to ensure users can practically apply what has been taught in the course.