2 MIN READ
Over the last few months, fires have raged across parts of Sumatra and Kalimantan, contributing to hazardous air quality in Indonesia and neighbouring countries.
The Emergency Spatial Support Centre (ESSC) — Esri Indonesia's disaster response program — is supporting government authorities in managing and responding to the forest fires.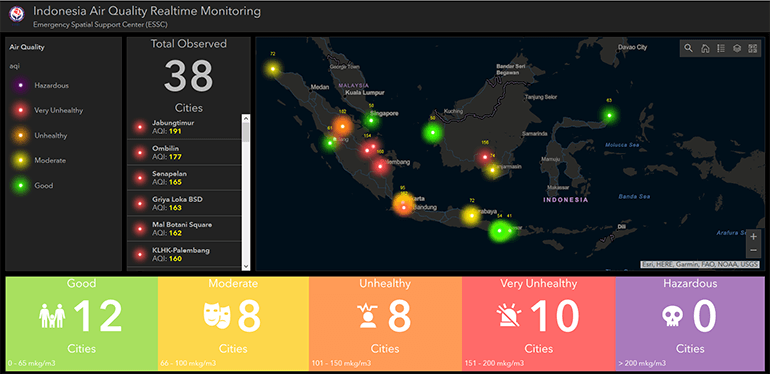 The centre has previously provided emergency response and relief efforts with geospatial technology and expertise in the event of national emergencies, including the Palu-Donggala earthquake, tsunamis and the eruption of Mt Agung in 2017.
To facilitate effective and coordinated emergency response to the raging forest fires, Esri Indonesia's geospatial advisers have developed smart applications providing disaster relief agencies with collaborative situational awareness.
"Our mission is to support the community and government in managing and responding to emergency situations by providing geospatial intelligence," said Dr. A. Istamar, CEO of Esri Indonesia and founder of ESSC.
In response to the forest fires, the ESSC has developed a mapping dashboard that integrates and visualises data to give users a clearer picture of the major forest fire hot spots and their impact on air quality.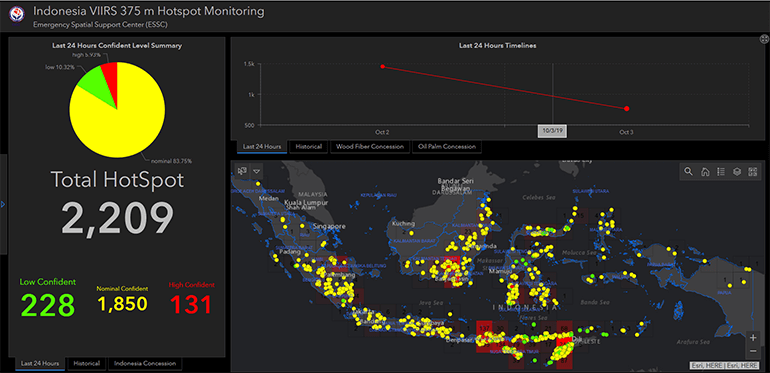 Identifying wildfire risks allows public safety agencies to prioritise those risks and determine immediate actions. This program also helps with mitigation efforts, planning, and the ability to make data-driven decisions about resource utilisation (experts and logistics).
According to Dr. Istamar, geospatial technology provides the ability to present the data in a visual perspective that easily communicates the risk to society. It also allows the government to analyse multiple data-sets to determine how these risks will impact people, infrastructure as well as the environment.
"We are providing our users — such as BNPB and Ministry of Forestry — the benefit of geospatial technology to give location-based information and communicate it with public through government officials by using powerful and detailed digital maps to fulfil public's needs," he added.
For more information on the application of GIS in emergency and disaster response, visit our resources page.