2 MIN READ
Thirty million small business owners across Indonesia were severely impacted by the COVID-19 pandemic. Some owners were left homeless with many forced to live on a fraction of their regular income.
As coronavirus swiftly impacted communities across Indonesia, a further 2.8 million people were tipped into poverty, increasing the total to 27.6 million in September 2021.
Amid the crisis, Esri Indonesia's solutions team created a way to deliver essential food and groceries to the communities and businesses most impacted by the pandemic.
Working with fundraising platform Kitabisa and support organisation Warga Bantu Warga, the team developed an interactive platform named 'Peta Kebaikan': The Map of Kindness.
Mapping the Kindness
The cloud-based, mobile-friendly map enabled donors to select a business or community centre requiring assistance. Upon selection, donors were redirected to a Kitabisa page to complete their transaction.
From there, Warga Bantu Warga's field teams distributed groceries and bulk-food purchases to COVID-impacted communities.
Eleven cities were involved in the Peta Kebaikan initiative: Jabodetabek, Lampung, Medan, Yogyakarta, Semarang, Malang, and Surabaya.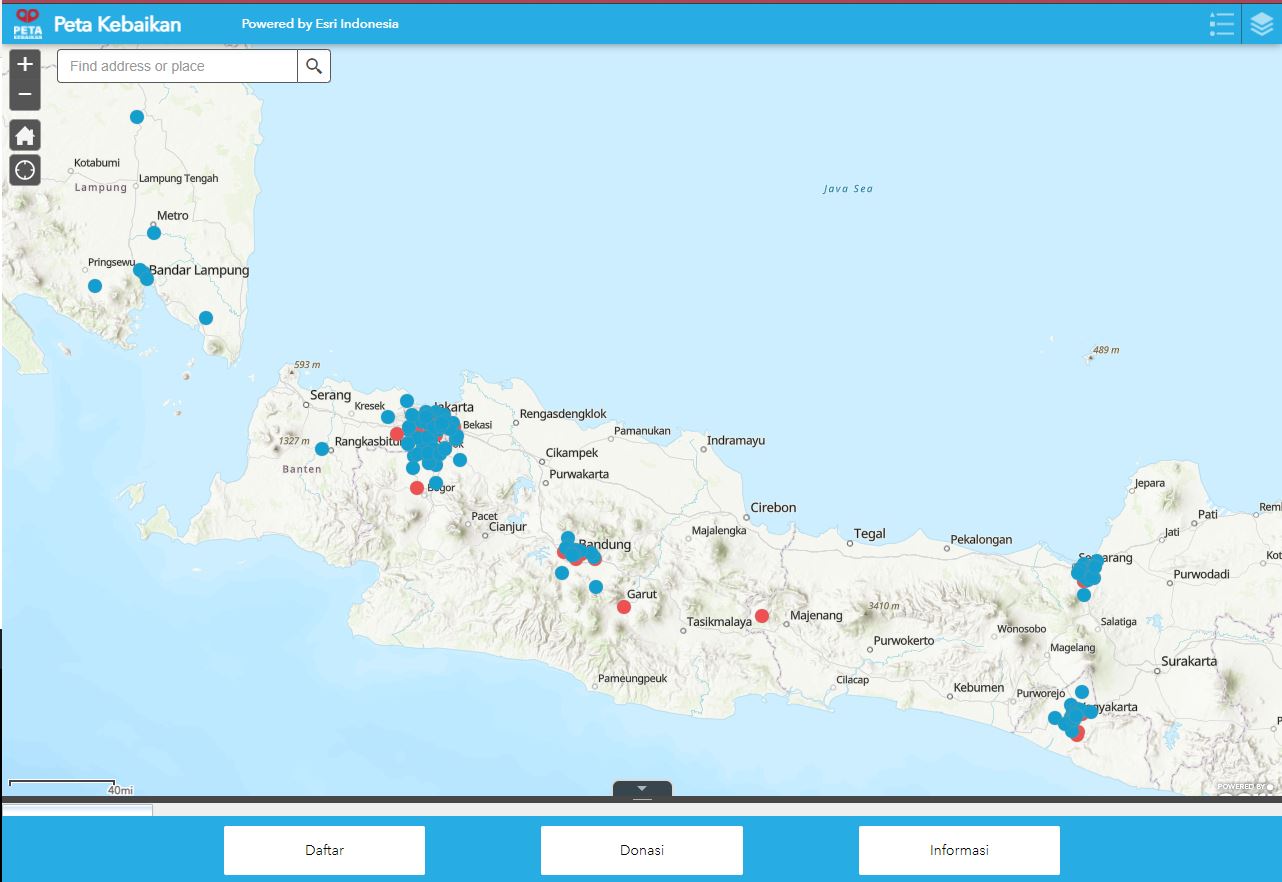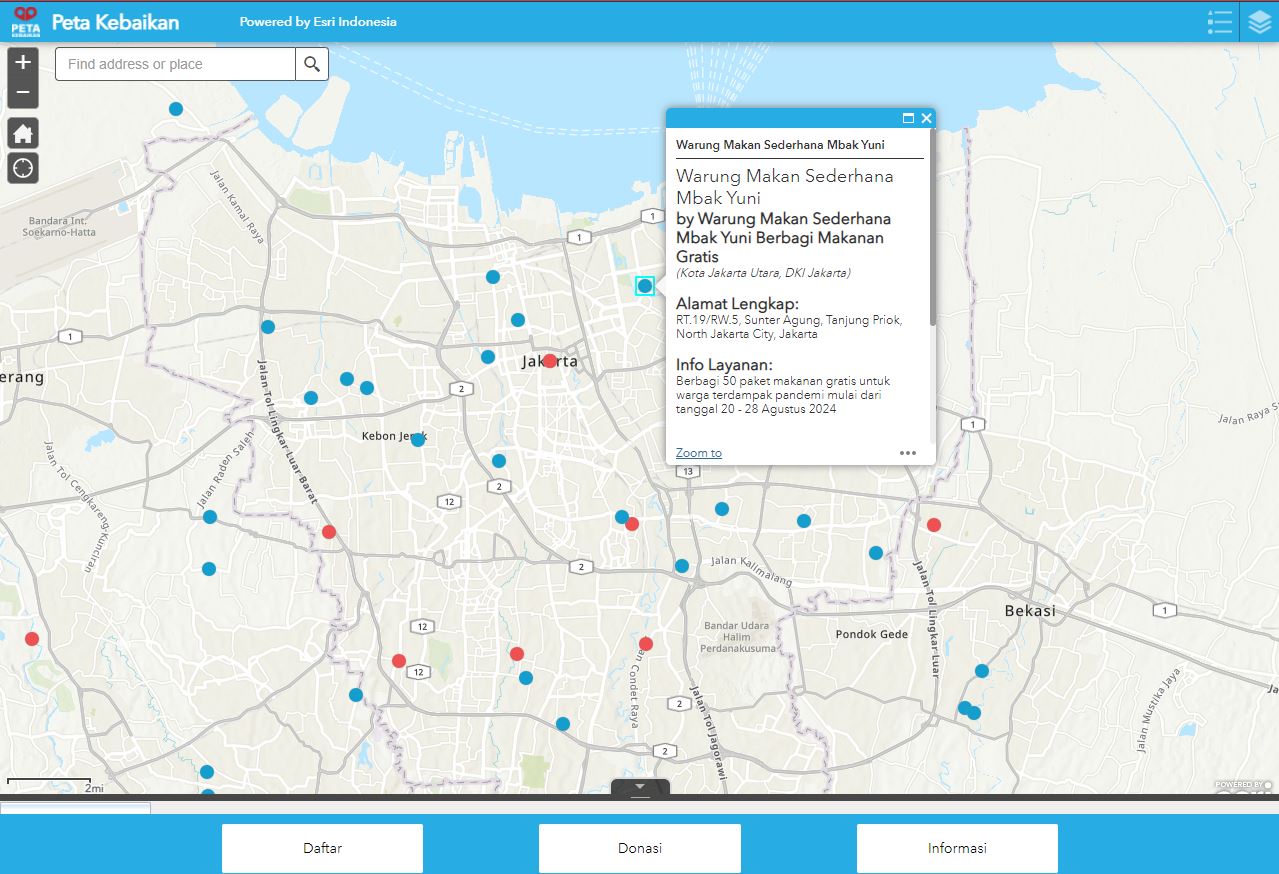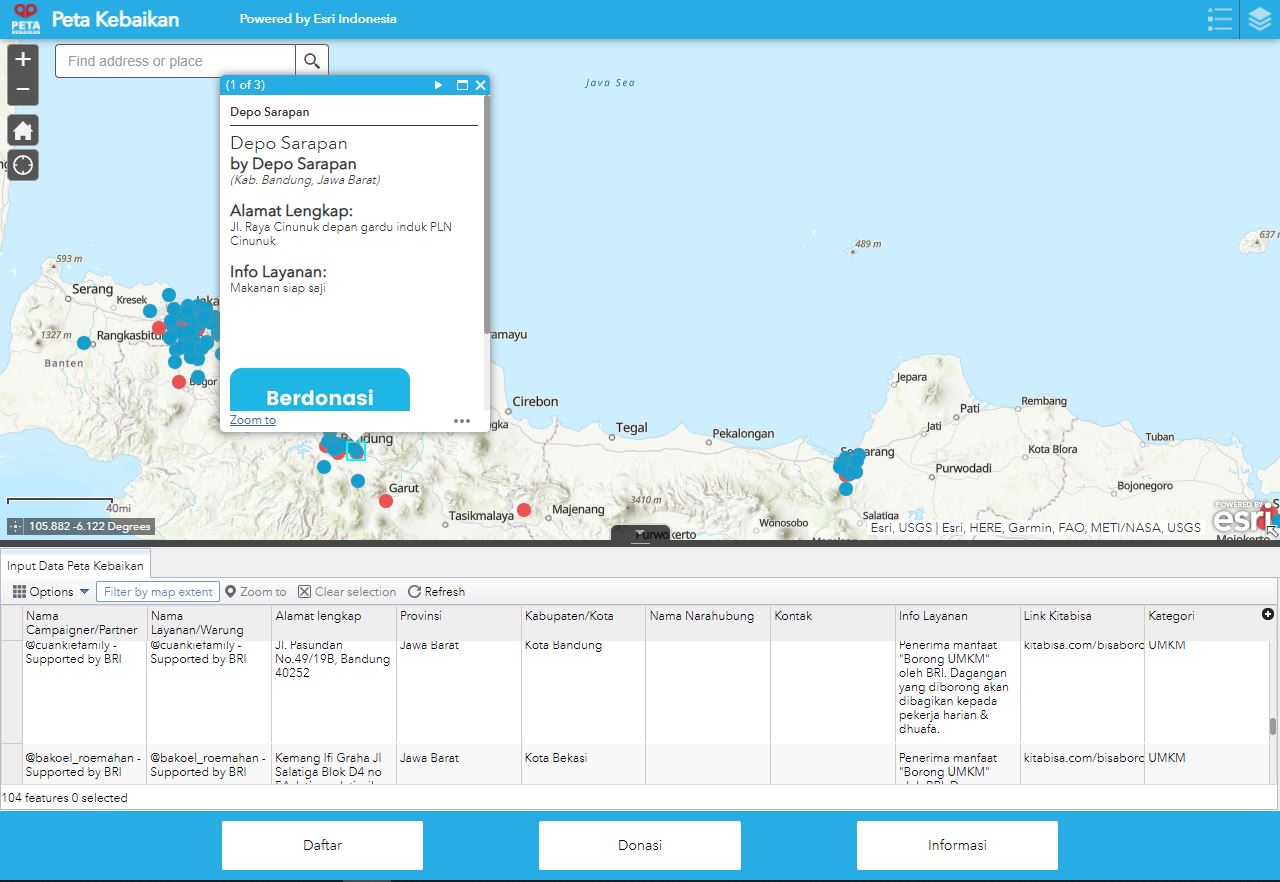 Within six months, the Map of Kindness project raised a total of IDR 2.3 billion in donations.
This incredible contribution assisted over 80 local businesses and community help centres, improving the welfare and wellbeing of those most affected by the pandemic.
The project's success was magnified with exposure from media channel Narasi.TV, with the coverage reaching more than 10,000 viewers.
Peta Kebaikan is proof that community-led applications can inspire public support to meaningfully help others in times of crisis.
Special thanks to Kitabisa.com, Warga Bantu Warga, Narasi.TV and Esri Indonesia.
For more information about Peta Kebaikan visit petakebaikan.kitabisa.com
Looking to create smarter communities? Find out how successful governments are leveraging the latest GIS technology: esriindonesia.co.id/gis-for-cities-and-municipalities
Soraya Rizka Keumala
Solution Strategist Specialist
Esri Indonesia, Jakarta
GIS Specialist for Smart Cities and Spatial Planning.