3 MIN READ
Esri Indonesia and BMKG develops Smart Weather App for the 2018 Asian Games to provide weather and sporting events information at each venue of the Asian Games matches.
BMKG (Indonesia Meteorology, Climatology and Geophysics Agency) has launched a cutting-edge technology application that could help keep athletes and spectators safe in the event of natural emergencies, such as an earthquake or fire-related smoke.
Developed in partnership with Esri Indonesia, the country's leading location-based analytics provider, the application delivers real-time and predictive weather insights to help ensure event organisers can quickly identify and respond to potential weather issues.
Asian Games athletes can also use the insights delivered through the app to prepare for their events, by understanding how wind speed, humidity or temperature may optimise or hinder their performance.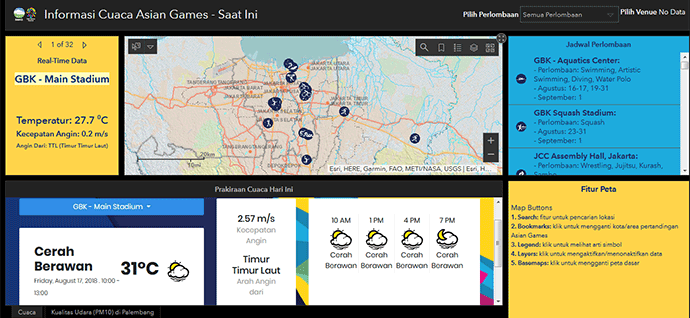 Director General of BMKG, Prof Dr. Dwikorita Karnawati explained, "BMKG is responsible for providing trusted weather data and weather predictions in real-time, especially for the Asian Games," she said,
"This critical information is especially needed for the safety of and to support decisions related to sporting events particularly exposed to weather conditions, such as water sports and paragliding."
"BMKG also provides analysis of air pollutants to anticipate smoke haze around the Jakabaring Sport City in Palembang," said Dwikorita. She further added that extreme weather can occur at any time, so it is crucial to have a smart application that can have the ability to report and scientifically forecast these dynamics and provide warnings for severe weather as early as possible.
She revealed that accurate and integrated weather information is not only important for safety, but also helps athletes involved in outdoor sports - such as rowing, baseball, softball, archery, rugby, hockey and swimming – and officials to be able to immediately respond to and anticipate the climate conditions at that time.
"These factors drove BMKG to work together with Esri Indonesia to develop an intelligent mapping application that is capable of displaying real-time weather information to ensure the success of the Asian Games," she added.
This smart application can be accessed using mobile applications (Android), 3D Web Application and Operations Dashboard. Dwikorita explained that the BMKG Data Center has the capability to acquire satellite imageries, collect data from weather stations and sensory systems. Through the integration of big data facilities at BMKG and the cloud-based smart mapping platform from Esri, the data is then processed and enriched into service-based real-time data for each location.
Meanwhile, according to Esri Indonesia Chief Industry Solution Officer Cahyo Nugroho, "Because of the amount of data that needs to be collected and analysed, cloud computing is key to this operation".
"To provide this capability, Esri's ArcGIS Online Cloud and Microsoft Azure Cloud were both leveraged to deploy on-demand analytical and smart mapping services," Nugroho said.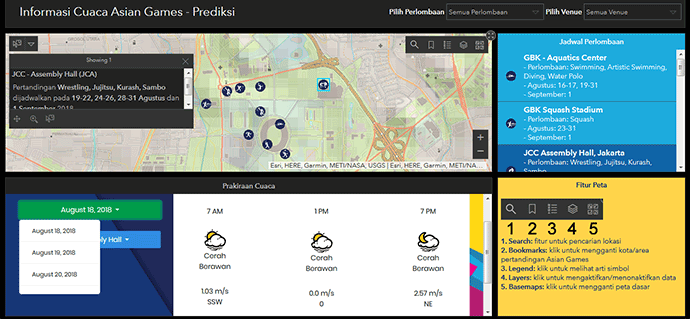 "The main variable of Indonesia's climate is not only temperature or air pressure, but rainfall, air quality and haze", Nugroho said. "What we need is more than just data. The key is to unlock the data's full potential to become actionable insights," he further added.
This latest collaboration between BMKG and Esri Indonesia for the Asian Games is an enhancement of a larger effort to utilise cutting-edge spatial technology for weather services across Indonesia.
"Esri Indonesia is committed to support BMKG in realising the benefits of the technological innovation inspired by The Industrial Revolution 4.0. The combination of Artificial Intelligence, Machine Learning, Cloud, and Big Data can help mitigate risks and enable people to make smarter decisions," Nugroho explained.
Looking ahead, both organisations will next be turning focus to developing innovative technology applications to support the IMF Summit in Bali and another large scale public event in Papua later this year.
Use your ArcGIS login to view the operation dashboards created by BMKG and Esri Indonesia for the Asian Games 2018 event, Cuacahariini and Cuacaprediksi.