3 MIN READ
The latest Esri geospatial analytics technology for enterprises, GeoAI, is now run on the Microsoft Azure platform.
Esri Indonesia and Microsoft Indonesia formally announced their collaboration in bringing geospatial technology combined with Artificial Intelligence, Machine Learning and location analytics, on Microsoft Azure.
The collaboration was announced in a seminar themed 'Enabling Indonesia 4.0 with GeoAI', held on 21 March 2019.  
Widely known in the technology industry, Microsoft globally has long been a partner of Esri for over 15 years. The partnership involves providing a wide range of applications for various sectors, including commercial, government and academe.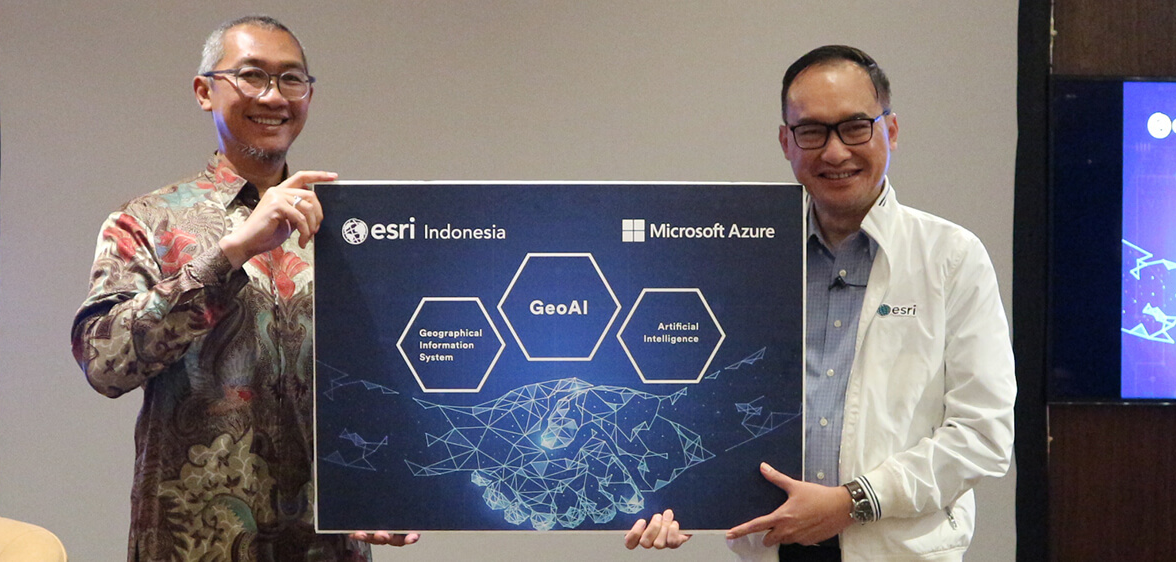 This being said, reflects an even stronger partnership between the two companies in servicing customers in Indonesia who entail geospatial technology with deeper insights and intelligence to make informed and accurate business decisions.
The current partnership comprises:
ArcGIS Enterprise on Microsoft Azure which allows customers to deploy an ArcGIS Server site, ArcGIS Enterprise, and ArcGIS Desktop clients on Microsoft Azure virtual machines, both on the cloud and on premises.
 
The power of geospatial technology and artificial intelligence (AI) in the Microsoft Data Science Virtual Machine (DSVM) on the Azure cloud platform. Geo AI ties the analytical capabilities of ArcGIS Pro, Esri's next-generation desktop GIS, with Microsoft's AI platform and ArcGIS Enterprise on Azure to provide SaaS-based Geo AI capabilities. The consolidation of GIS, AI, and the Data Science Virtual Machine provides deeper insights that are integrated with geospatial intelligence hence enables accelerating decision making.
 
Off the shelf support for ArcGIS deployment on Azure Stack, bringing the agility  and fast-paced innovation of cloud computing to on premises local data residency, to meet specific compliance and governance.
According to Mulia Dewi Karnadi, Chief of Partner Officer dan Director of Small Medium Microsoft Indonesia, the ArcGIS product suite is strongly integrated into many Microsoft applications and services, deployed on the Azure cloud platform. The AI and Machine Learning capability leverages scalable cloud infrastructure while maintaining full control of geospatial assets and obtaining distributed processing power for big data processing.
The Azure cloud solutions provides assurance to the enterprise customers that it meets the Azure's world-class standards of privacy, compliance, scalability, management and simplicity with the lowest possible risk of data exposure, which comply with the local data residency policy, lower latency to better access performance to solve issues including asset location tracking, fleet management and traffic congestion.
Mrs. Mulia Dewi said, "Microsoft Indonesia recognizes Esri Indonesia's solution as the de-facto standard for geospatial technology in Indonesia and we will be proud to deliver an unparalleled value to our enterprise customers in this country."
As proud as Mrs. Mulia Dewi, Dr. A. Istamar, CEO Esri Indonesia added, "Indeed, the combination of AI, machine learning and a geographic information system (GIS) is helping organizations capture, store, and manage vast amounts of data, run robust analysis, and then visualize the insight embedded in the said data. The partnership with Microsoft Indonesia using Azure continues to accelerate the productivity of our customers, the deployment of Azure cloud and GeoAI, which allows our users to devote more time to solving real world problems".
Joint users of Esri solutions and Microsoft Azure cloud platform can now also enjoy all the capabilities of ArcGIS Pro on Azure's virtual desktop. ArcGIS Pro as a service on Azure enables GIS users to visualize, edit, and analyze geographic data in both 2D and 3D, as well as apply out-of-the-box advanced AI framework.
Source: https://www.jawapos.com/teknologi/25/03/2019/microsoft-indonesia-gandeng-esri-sajikan-geoai-di-platform-azure