2 MIN READ
A student geoscientist's innovative contribution to the development of a mission-critical disaster management tool has earned her a prestigious global award from mapping giant Esri.
Vini Indriasari – a lecturer from the Universitas Pembangunan Nasional Veteran Jakarta (UPNVJ) and PhD student in Geospatial Information Sciences at the University of Texas (UT) at Dallas – bested other hopefuls from across the world for the title of Esri International Student of the Year.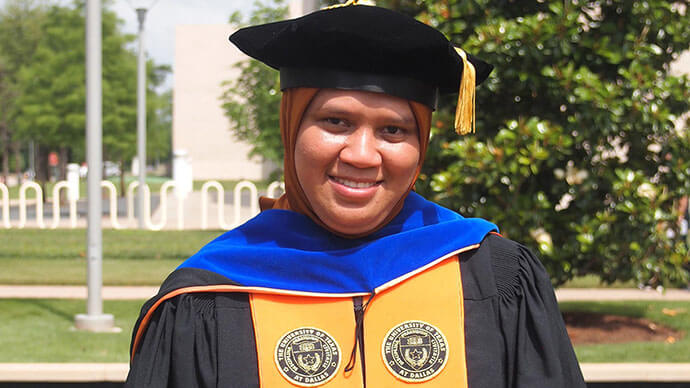 The global competition, run annually by Esri's Development Center Program, celebrates student excellence and ingenuity in using smart mapping tools – also known as Geographic Information System technology – to solve real-world problems.
Ms Indriasari worked as a student researcher in UT-Dallas' Center for GIS Innovation in Industry and Institutions (CG3i) with a team of geoscientists and civil engineers to develop the "iSIM" (Integrated Simplified Inundation Mapping) platform.
"iSIM is designed to provide organisations with a low-cost automated method for creating dam breach inundation maps for use in emergency action plans for small and intermediate-sized dams," Ms Indriasari said.
"Essentially, the tool simulates where the water will go in the case of a dam break, and which areas may be at risk of going under.
"By placing this information into the hands of first responders and decision-makers, they can plan and respond to floods and dam breaks in the most efficient way possible."  
Esri Indonesia Chief Executive Officer Bima Priadi said Ms Indriasari's creative use of GIS technology is a real asset to government groups worldwide, helping them better prepare for emergencies.
"Ms Indriasari's work provides clear insight into not only the causes of dam breaks, but also strategies for how to better manage flood incidents moving forward.
 "We believe this work will serve as a benchmark for state and local governments to take smarter approaches to emergency response and preparedness, allowing them to prevent significant damages and economic losses during times of natural disasters," Mr Priadi said.   
At present, Ms Indriasari is working with CG3i and UT-Dallas' Office of Technology Commercialisation to make the tool accessible to organisations worldwide.
Ms Indriasari said after graduation, she will return to her home country of Indonesia and her work at Universitas Pembangunan Nasional Veteran Jakarta (UPNVJ).  
"I plan to grow GIS activities in this institution, and propose the opening of a new GIS program for post-graduate level studies, and a GIS research centre to help nurture the talent of tomorrow," Ms Indriasari said.
"Furthermore, my greatest desire is to apply GIS to natural resource management. To achieve my goal, I will attempt to collaborate with people from various institutions to promote the implementation of GIS to help them achieve sustainable outcomes."